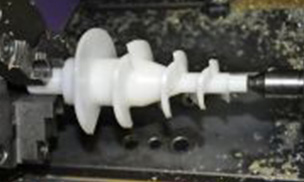 Auger (Machined from solid Food Grade Plastic)
This component is one element of a special purpose machine that we helped design and manufacture for a customer.
The auger started out as a hand-drawn sketch, which we then modelled using Solid works PDO. From there we programmed and machined the part using a 4-axis machining centre. We have been involved with the construction and design of this project from the start, offering manufacturing advice as well as prototype production and now production of the final product.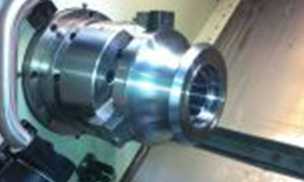 Form Roller (Machined from H13 Die Steel)
A customer of ours contacted us with an emergency break down, they had damaged a form roller on one of their main lines. We were able to machine the roller, have the heat treatment done, and finish hard turning the roller for delivery within 4 days.
This was achievable because of our good relationships with our suppliers, as well as our flexibility to respond quickly.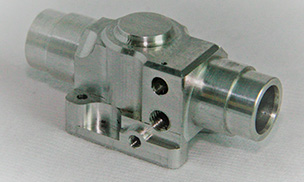 Valve housing (Machined from solid Aluminium)
We have been part of the manufacturing process of this part from the first off prototypes, right through to production quantities, this has brought about changes in the way we approach the job.
At first, while the quantities were small, it required six operations to complete each part. As we progressed through to production quantities, we refined the process to three operations, using our 4-axis VMC. This has had the effect of bringing the cost of producing the part down, as we are now able to produce the part more quickly and efficiently. This is a cost saving we are able to pass on to the customer; as such, more complete units can be sold, benefiting the customer and ourselves.